Modifications



In winter of 1999, I was on the search for a 1994 Toyota Supra Turbo. I have had an 1988 Turbo for a year and now I was ready to upgrade. I am not very rich, so I would have to go through a dealer becuase there are only a few local, and none are for sale. I need the dealer to find me one. Well, after two months of searching, they could not find was I was looking for, so I got a 1994 4runner with 50,000 miles instead. I would have prefered an older one, but the bank would not finance a truck that old with high miles. I didn't have too big of plans for the truck yet, but after taking it off road a few times, I new something had to change. I started looking into lifts, and my brother said something about a solid axle conversion. Hmm, never seen this before and I didn't even know it could be done. So, I jumped on the internet, and started looking around. Found quite a big of information and I started getting a feel for what needed to be done. After a few months of research and collecting parts, I started the conversion in July. A week later, I rolled out with a solid axle rock toy, well, starting to be anyway. I had a lot of bugs to work out of the conversion, and still do, but it performs so much better for rock crawling.

Checking clearence on swap

Well, I wasn't satisfied with just a solid axle. I needed more. I am running 35x14.50's, with 5.29 gears on the truck, and the 150hp 3.0V6, just doesn't cut it. On the freeway, I had a difficult time getting up to 65, and my gas milage dropped to 9 mpg, something had to be done. I looked into getting more power out of the V6, but to me, it wasn't worth it. In october, 4 months after the lift, my auto tranny failed. That was it, I my decision was concrete. About a month later, the engine, and transmission came out. My plans I have had for a 7MGTE had begun.

Well, 7MGTE conversion complete, and I must say, my seat-o-pants meter went off the scale. So much torque, when I gun it, the whole frame twists and almost feels like I am going to roll it over on the side.

Uhm, found out that the toyota 8" diff isn't meant for that kind of power. Only a month of driving, and I had already blown up to rear ends. So time for a Dana 60 rear swap.


Here is a dynorun from January 2003. This is with a 60-1 upgraded CT-26 turbo running at 10 psi. Restrictive turbo elbow. Powerstroke intercooler with 3" intake piping and K&N Filter. Running this through R151F tranny and dual t-cases. 4.88 gears in the rear, and 38" tires. The motor I had in was losing compression, and I had a fuel problem. Started running to lean near the top. For some reason they guy on the controls didn't start the dyno until 3700 RPMS, and didn't even step on the gas until 3500. Very dissapointed on the way they ran the dyno. But it was still a pretty good run for stock fuel.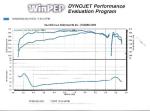 Dyno Run
Page 1 | Page 2