1993 GS300 Drag Car


&nbsp&nbsp
Project Drag GS300
Started 09/15/09
Currently in progress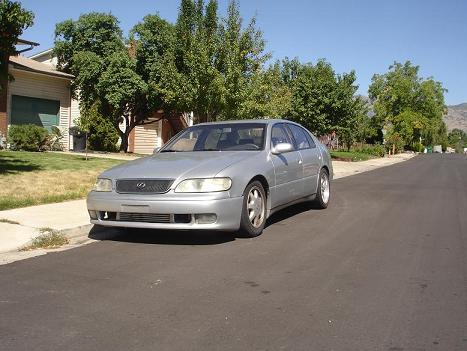 Click here for updates - latest update - 12/07/07

The Car

The car is a 1993 Alpine Silver Lexus GS300(soon to be badged Toyota Aristo). I purchased in April of 2005, and 6 months later in the car was turbocharged. Due to a faulty radiator the engine blew a head gasket and the car sat for over 2 years. It has now been resurrected and will be my greatest build and achievment yet.
The Mods

Engine:
3.0L I6 2JZGE
stock rods with ARP bolts
JE 8.5 pistons
Head:
TT 1.3mm HG
ARP head studs
HKS 272 cams
seat blend and port cleanup


Turbo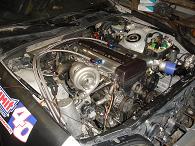 engine
Turbo:
74mm ITS turbo
XSPower Manifold
XSPower 3" intercooler
Tial 50mm BOV
Tial 38mm WG
Custom piping
Custom intake maniofold
Q45 Throttle body
Custom stainless 3 1/2" downipe
Custom stainless 4" from downpipe back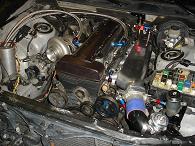 Engine
fuel:
1600cc injectors
Weldon fuel pump
-10 gravity feed
-8AN from pump to dual -6 rail (too small)
Runs on E85(E70)
Engine
Electronics
AEM EMS
AEM Wideband
AEM boost controller
Drivetrain:
Custom Manual conversion
1988 turbo supra 5 speed transmission
stage 3 clutch(no where near strong enough)
stock driveline(with exception of front half for new tranny)
stock rear end with 4.10 gears
stock axles
285/40/17 tires on Jupiter 3piece wheels
Future plans:
Full roll cage w/chute
Powerglide
600lb diet
Powerglide with 6,000 stall.
More power!!!
Exhaust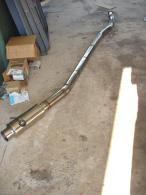 Exhaust
The downpipe is a 3 1/4" stainless pipe v-banded up the 4" exhaust.

Mufller
text here
Intake Manifold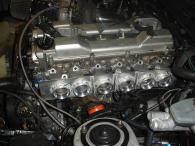 Intake
The intake is a custom made intake using 4" aluminum piping, and 1/4" aluminum sheet metal. Velocity stacks were manual spun out of 3" bar stock on a manual lathe, then flow tested within 2cfm. The stock NA manifold was cut short, and the aluminum plate was cut out with a hold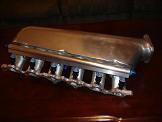 Intake with fuel rail
saw to fit each runner, then welded. Each velocity stack was then welded to the top of each runner. Using several specified pieces of 1/4" aluminum sheet, the manifold was assembled and welded together to form a nice tapered design to the thottle body plate. A Q45 flange was used for the larger 90mm Q45 throttle body.
Page 1 |









email me at robertj@linux4free.com for any comments or questions