1993 Toyota Supra NA-T conversion


&nbsp&nbsp
Project E85 Supra
Started 09/15/07
Finished------never until I sell it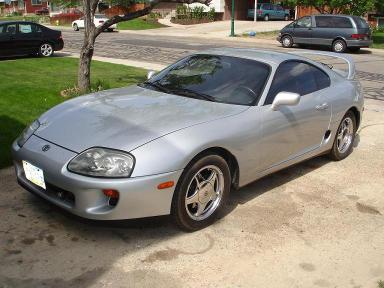 Click here for updates - latest update - 12/07/07

The Car

The car is a 1993 Alpine Silver Toyota Supra Targa non-turbo. I purchased in June of 2007, and 3 months later in September the car was turbocharged.
The Mods

Cometic 1.9mm HG
ARP head studs
4" stainless exhaust
XSPower manifold
XSPower IC
XSPower 70mm turbo
XSPower WG
XSPower 38mm WG
1600cc injectors
Weldon fuel pump
-10AN fuel lines split to -8AN dual feed rail
Aremotive AFPR
AEM EMS +5 bar sensor
AEM wide band
AEM boost solenoid
MSD 6AL ignition
Custom 3" - 3 1/2" IC piping
TT trans with modified valve body
custom VW style intake with velocity stacks (gained 20cfm per runner over stock manifold)
Q45 TB
Engine Prep for Turbo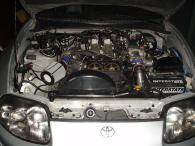 engine
I first started off by drilling out the oil return hole in the aluminum oil pan. This was a a little harder than on my GS300. On the GS300, you can remove the oil pan without pulling the motor. This in not the case on the supra, so you have to be careful not to get aluminum filings in the engine. I was not this carefull, and ended up pulling the motor to finish the job. Not a big deal since I was changing the head gasket anyway with a Cometic 1.9mm head gaset and ARP head studs.
Turbo Setup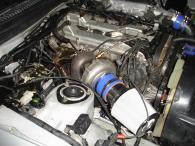 turbo
For now I am using an XSPower T61(70mm) turbo and going to push it for all it's worth. The turbo feed line is a -4an custom steel braided teflon line that comes from a modified oil filter bolt that was drilled and tapped for the -4an fitting. The return also uses a custom fit -10an steel braided teflon line. The XSPower manifold was also clocked in order for the 4" intake of the turbo to clear the distributor.
Exhaust

Exhaust
The downpipe is a 3" stainless pipe from the XS kit, then modified to fit the clocked turbo. A custom made 3"-4" adapter was made to bolt up the 4" exhaust. The exhuast is made from 4" 409 Stainless tailpipe. The tailpipes utilize mandrel bends, and are cut then re-welded to get the desired exhaust shape.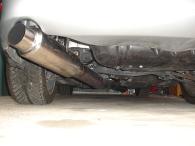 Mufller
The 4" exhaust ais then fed through a 4" strait through muffler. It is rather noisy, and will probably find a nice chamberd muffler to help reduce the noise. For daily driving, it gets annyoing quickly, causing any loose object in the car to rattle. WOT sounds really nice though. I will probably use a v-band for rapid swap out.
Intake Manifold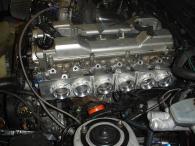 Intake
The intake is a custom made intake using 4" aluminum piping, and 1/4" aluminum sheet metal. Velocity stacks were manual spun out of 3" bar stock on a manual lathe, then flow tested within 2cfm. The stock NA manifold was cut short, and the aluminum plate was cut out with a hold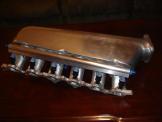 Intake with fuel rail
saw to fit each runner, then welded. Each velocity stack was then welded to the top of each runner. Using several specified pieces of 1/4" aluminum sheet, the manifold was assembled and welded together to form a nice tapered design to the thottle body plate. A Q45 flange was used for the larger 90mm Q45 throttle body.
Page 1 | Page 2









email me at robertj@linux4free.com for any comments or questions